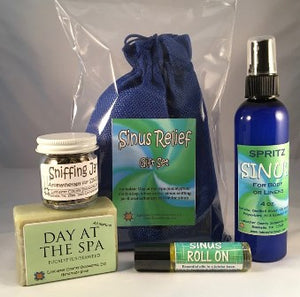 Sinus Comfort Kit
People say that Lancaster County PA is the seasonal allergy capital of the country.  I suspect that there are several locations that claim that designation.  Let's just say we can tell when the trees throw off pollen, when the corn tassels, and when the leaf mold is rampant.  We started working on helpers for ourselves decades ago, as soon as we started learning about herbs and oils.

The kit includes:
Day at the Spa Soap is stuffed with seaweed for it's humectant and skin soothing properties, and scented lavishly with Eucalyptus essential oil.  You'll love the way it makes you feel, from your head to your toes.
Sinus Aromatherapy Roll-On that you'll apply to your forehead, chest, wrists, and throat.  The essential oils have been properly diluted in jojoba oil for safe use.
Sniffing Jar - When Maryanne suggested this product 25 years ago, I shrugged and thought it might be fun.  Little did either of us know it would be second only to soap in popularity.  The blend of essential oils and herbs in this little jar never fails to get a reaction on first sniff.  We've had people purchase them by the dozen so they can put them everywhere they might be needed. 
Sinus Blend Spritz is made from the same essential oils as the Roll-On, but is oil-free and not as concentrated.  Maryanne has been known to spray it on her hubby's pillow when he snores, and the pillow is a great place to spray it when you're trying to go to sleep and feeling clogged up.
All packaged in a jute sack for a great presentation.