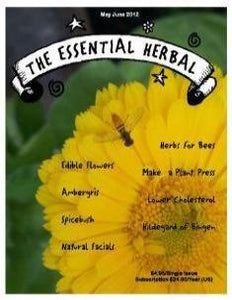 May June 2012 Digital
Field Notes What the heck is going on out there? How are our gardens growing?
Shaker Sachets, Karen Hegre A quick, easy, and useful herbal craft
Herbs for Bees and Beekeepers, Suzan T Scholl How to help bees thrive by giving them what they need, and a primer on what products bees make.
Edible Flowers: More than Decoration, Marcy Lautanen-Raleigh Many, many ideas and recipes for using edible flowers in the kitchen!
Herbal Connections, Herbs for Lowering Cholesterol,Marita A Orr several herbal options that can be just as effective without the side effects.
Vinegar of the Four Thieves, Rita Richardson An interesting vinegar to make and use - whether a plague abounds or not.
The Scented Imagination: Random Thoughts on Ambergris, Marcia Elston \"The Gold of the Ocean\" or whale vomit?
Faith in Tomatoes, Belle DiMonte A love letter to the simple act of loving plants.
LA Lagniappe, River Town Shrimp & Eggplant Jambalaya, Sarah Liberta Authentic Jambalaya recipe from deep in the heart of Louisiana, this recipe will have your mouth watering!
How to Make a Plant Press, Erin McIntosh Directions to help you make a plant press to keep some of the spring and summer available for crafting or sweet memories.
Toxins in the Home, Heddy Johannesen Lots of simple, useful ideas for keeping a healthier home.
Natural Facials, Marcy Lautanen-Raleigh Cleanser for each type of skin, using herbs and kitchen items.
What I Do with Herbs, Susan Broyles Susan shares the many ways she incorporates herbs into all the days of her life.
The Soap Pot, Herbal Color Swirling, Alicia Grosso Three soaps, colored with herbs, and swirled into a spectacular bar of herbie goodness.
Getting to Know Spicebush, Tina Sams The Notable Native of 2012 and we take a look at this very prolific woodland shrub.
Summertime Herbal Friends, Tina Sams A few quick wild herbal helpers to get through the bumps and bugs of summer.
Women Herbalists, Hildegard of Bingen, Susanna Reppert Brill Visions or migraines? We\'ll never know for certain, but Susanna takes us along on a trek into the 12th century and Medieval time of herbalism.
Not So Humble Chickweed, Sandy Michelsen Chickweed salve recipe with some information about this amazing, common weed.
Strawberry Scones, Janet Roberson What could be better at this time of year, than to start the day (or during mid-afternoon tea) with a burst of strawberry?