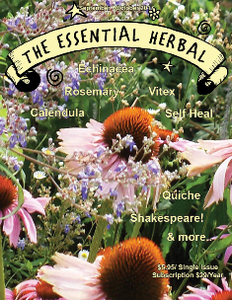 September October 2017 Essential Herbal (digital)
Field Notes from the Editor, Tina Sams Bits and pieces of life on the hill, and what's new with the magazine.
Give Beets a Chance, Rita Richardson Lots of reasons to bring delicious beets into the kitchen, how to prepare them, and 3 recipes.
Echinacea, Tina Sams I accidentally started a chapter on Echinacea for Healing Herbs, and it's been hanging around in the files waiting for a chance to be in the magazine.
Seasonal Oil Change, Maryanne Schwartz As temperature and humidity change, so will our requirements for skin soothing oils.
New Book Excerpt, The Herbalist's Kitchen by Brittany Wood Nickerson An excerpt from a gorgeous new cookbook/herbal. Look for a review on the blog soon
List Article, Your Favorite Winter Medicinal Herbal Preparation? We gathered answers together from the Yahoo! group, the facebook page, and email, to share our favorites.
Helen De Conway Little Medal of Honor Winner, Tina Sams & Maryanne Schwartz We honor and congratulate our friend (and frequent contributor) Sarah Liberta on winning this prestigious award.
Gardening with Kathy, Using Herbs in the Landscape, Kathy Musser Tons of great ideas and fun, useful plants that you may not have considered before--or maybe just didn't think about quite this way.
Flexible Quiche, Marci Tsohonis With just the ingredients that you probably have in the kitchen, and some herbs from the garden, you can put a luscious quiche on the table for the family, or let guests think you worked all day on dinner.
Rosemary, Miranda Hoodenpyl Beautiful, fragrant, delicious, and medicinal--rosemary can wear a lot of hats. Well studied and documented, bring this plant and the essential oil (or hydrosol) inside.
Self Heal, Sandy Michelsen This unassuming, little, flowering lawn weed is an important medicinal. Good information, and how to make a self heal salve.
Pecan Date Surprises, Sarah Liberta "Beneath the lightly crispy shell of this confection is a rich, gooey center of moist dates and pecans laced with citrus."
Natural Calendula Soap, Marci Tsohonis With dry winter months coming, this is the soap to make and have on hand. If you haven't taken that plunge yet, do it now. Use this recipe. Calendula soap is made for winter.
The Value of Vitex, Kristine Brown The how's and why's of vitex. Learn all about it, as well as how to make a vinegar, oil, and poultice!
The Shakespeare Garden, Jackie Johnson The herb group maintaining the Green Bay Botanical Gardens went all in for the 400th anniversary of Shakespeare's death, using the herbs mentioned in his works.