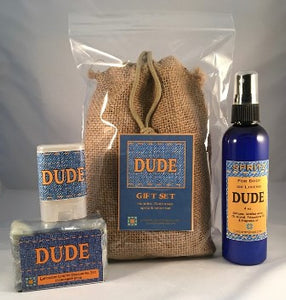 Dude Set
This fragrance causes an interesting reaction.  When women pick it up and smell it, 80% of the time (yes, I made that up, but it's close) they say, "I WISH a man smelled like this!"  This set is scented with a dupe for Cool Water.  Refreshing and masculine, it's a very sexy fragrance. You get:
soap that is white, marbled with midnight blue swirls, and did I mention that it smells really good?
lotion bar/solid fragrance to keep that going
spritz to make sure it's on your clothing or body
Mmm hmmm!
Packaged in a jute drawstring bag
I'd write more about this, but it would get me in trouble.