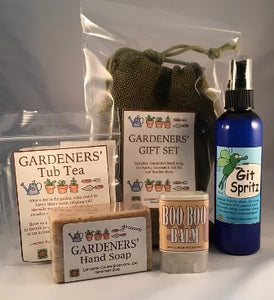 Gardeners Set
For the gardener on your list.  A  little protection from the wee beasties that may make our work in the garden uncomfortable, along with a little extra care following an afternoon of hard work.  You get:
A spray bottle of our popular Git Spritz. We have gotten some wonderful feedback on this all-natural combo. Catnip essential oil has been tested in university studies and found to be as effective as Deet so it is the main ingredient. Along with other oils, we also added cedarwood to discourage the clouds of gnats that sometimes may chase us inside before we are ready.
Gardeners Hand Soap with mild cornmeal scrubbies as well as comfrey root and tea tree all added for their healing properties.

Gardeners Tub Tea for a relaxing and fragrant soak.  Muscles relax, itches and cuts are soothed and sinuses are opened!

A solid Boo Boo Balm to care for those little cuts from the garden and to moisturize those hard working hands.

All packed up in a mossy green jute drawstring bag.