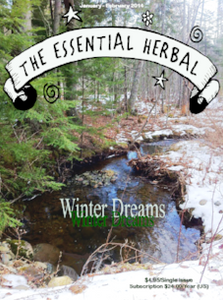 January February 2014 Essential Herbal (digital)
Field Notes
Thoughts on exactly what TEH has been doing for the past 12 years.
Costmary/Bible Leaf
,
Sandy Michelsen

There are many uses for costmary that don't involve being a bookmark!
My Herbalism
,
April Coburn

Herbalism is something different and very personal to each of us.
Herbs Everyday
,
Daphna Amar Romanoff

An herbal bouquet of different ways to use herbs all around the house.
Herbs for Winter
,
Heddy Johannsen

Got garlic, cinnamon, lemon and ginger? These handy household herbs plus a few others to stay healthy through the winter.
Opening Our Home to Strangers—WWOOFING
,
Kristine Brown

Ever wonder how it would be to have a little help around the farm?
The History of Tea (Camellia Sinensis),
Jackie Johnson

We take tea for granted, but there's lots to know about it.
Longevity Means Living Well
,
Suzan T Scholl

Here's to a long, healthy life!
Squash—The Seasonal Winter Meal
,
Marcy Lautanen-Raleigh

A delicious, nutritious, versatile vegetable that "keeps" until you need it.
SouthRidge Treasures,
Nutmeg
,
Mary Ellen Wilcox

Did you know that early American cookbooks contained more recipes using nutmeg than any other spice? Find out why.
In a Lather for Spring
,
Marci Tsohonis

Dress up your soaps for spring—colorants and techniques to get your imagination soaring.
Roots & Bliss
,
Jamie Jackson

What happens when reality and idealism collide? We evolve.
The Queen Bean
,
Rita Richardson

Have you eaten flageolet beans? Might be a good one to grow this year!
Soup Pot
,
Janice Masters

Hearty soups can get us through the most miserable weather.
Cowboy Cookies
,
adapted from Simplyrecipes.com
The cookies we made to share at the Autumn Roots & Wings Fest.