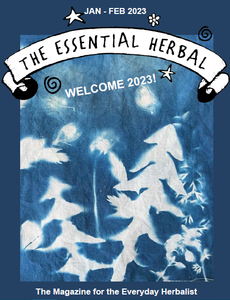 January February '23 Essential Herbal (digital)
Table of Contents:
Crossword for a winter's day
Field Notes from the Editor, Tina Sams
Shifting seasons, shifting gears
About the Cover
How we made the print on the cover
Mocktails for Black Bottom Saints, Marcy Lautanen-Raleigh
Fascinated by a book, Marcy recreated beverages that were described.
Cotton - Excerpt from "The Vessel: Women, Plants and Contraception," Abrah Arneson
A Midwinter Cordial, Heidi Shayla 
This version will support the digestive system with a blend of bitter, spice, sweet, and warm!
Is Native Plant Gardening for You? Jackie Johnson  ND
There are lots of good reasons to grow and encourage native plants.
Ask the Herb Farmer, Kathy Musser 
Kathy shares the answers to some of her most frequently asked questions.
Sweets to the Sweet, Marci Tsohonis 
Peanut brittle that tastes like Butterfingers™ and rum ball variations – yes please!
Love is Mint to Be, Alicia Allen
A delightful 8 course menu using floriography (the language of plants) to convey love and affection.
A Musical Playlist for You (and Your Plants) Susanna Reppert Brill 
A look at how plants used in language have been incorporated into popular music.
Yarrow, Rosehip & Wild Carrot Lip Balm, Amanda Gootgarts 
Lip balm packed with healing.
Weeds - A Tale of Two Tails, Barbara Steele 
Comparison of some similar weeds, and one that can hurt animals.
Lemon Verbena, Tina Sams 
So pretty, so fragrant, so many benefits!