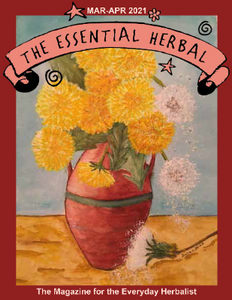 March April 2021 Essential Herbal Magazine (digital)
TABLE OF CONTENTS

Cover, Susan Holliday
Field Notes from the Editor, Tina Sams
20 years ago in April, TEH germinated. It seems like yesterday. 
It seems like a few lifetimes ago.

A Garden of Afro-Mediterranean Beauty, Carolina Gonzalez
Beautifying herbs from the Canary Islands                                                      
Warming Mustard & Ginger Bath Salts, Mountain Rose Herbs
Invigorating, healing baths.                                                                                 
Winter Aromatherapy, Tina Sams
Various ways to add moisture and fragrance into the winter air.                  
Book Excerpt "The Artisan Herbalist," Bevin Cohen                                 
Wintergreen, from Bevin Cohen's new book
One Pan Dinners, Alicia Allen
3 friends tested Alicia's recipes and sent pictures along the way.               
Six Herbs for a Simple Stillroom Garden, Catherine Love                         
What if you had only enough room for 6?  What would you choose?
Black Drawing Salve, Marci Tsohonis
Step by step instructions for this distinctive and useful salve.                      
Checking Out Chicory, Kristine Brown
If you like dandelion, you'll love chicory!                                                          
Garden Journey, Rebekah Bailey
We get to watch the ongoing renewal over at the Bailey place.                      
Baked Oatmeal, Tina Sams
An easy, delicious breakfast.                                                                               
Holistic Help for the Immune System, Jackie Johnson ND
Helping the body to heal itself is the best thing we can do.                           
Mulching with Herbs, Marci Lautanen-Raleigh
Grow and harvest your own mulch.                                                                   
Garden Design, Part 1,
Kathy Musser
What are the different things to think about when planning a garden?