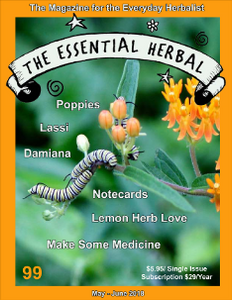 May June 2018 Essential Herbal (digital)
Cover photography by Signe Sundberg-Hall
Field Notes from the Editor, Tina Sams
    Staying in touch with the natural world in the winter.
Blue Vervain - The Wizards' Herb, Jackie Johnson                                     
    There is much to be learned of this magnificent plant.
Harvesting Herbs in the Wild, Sandy Michelsen                                           
    Foraging safely and ethically, and what to do once you have it.
Damiana, Marita Orr
    The legendary herb well known as an aphrodisiac, helps us with many other issues.
California Poppy, Kristine Brown
    The lush and generous nervine is so versatile.  You'll want to grow some.
Hello, Summer! Tina Sams
    It's finally here.  Summer!  What do you need?  Quick and dirty instructions for many herbal concoctions.
Molly in the West, Full House Herbalism, Molly Sams
    When space is severely limited, the herb people abide.
Making Herbal Notecards, Mary Ellen Wilcox
    Mary Ellen made these for a swap, and agreed to write the instructions – they're great!
Get Organized Outside, Kathy Musser
    The growing season, by the most organized person I know, bar none.
Lassi, Come Home, Rebekah Bailey
    Make this delicious, refreshing drink at home.  Make your own buttermilk, too.
Pickled Mushrooms, Rita Richardson
    A delicious appetizer for summer entertaining.
"Lemons" for your Summer Enjoyment, Marcy Lautanen-Raleigh
    Lemon balm and verbena – with a slew of recipes and ways to use them.
Another Recycling Project, Sue Ryn Burns
    You know that old charcoal grill out in the garage?  Well…
Stress Less Tea, Tina Sams
    This is the tea we made to send to Standing Rock a while back. We've had some requests for the recipe, so here it is.
Twisted Sisters' Clay Facial Bar, Maryanne Schwartz
    25 years of soap biz makes it necessary to try new things sometimes, just to stay sane.