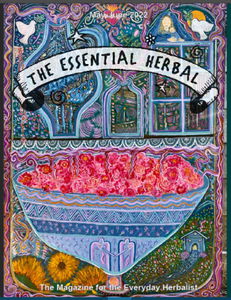 May June 2022 Essential Herbal (digital)
Cover, Gail Faith Edwards
The bowl of Roses is the centerpiece in Gail's illustration of her own apothecary. 
Word Find, Plants Named for Bugs and Animals
Nicknames for plants often include other creatures. 
Field Notes from the Editor, Tina Sams
This spring and summer bring us a taste of the life we've all been missing. 
Necessity/Survival Gardens, Jackie Johnson. ND
Many people are taking a good look at their ability to grow food and/or medicine.  What do you need?  How much?  Seed saving and preserving are also discussed.
Stone Fruits with Herbs - Plum Delicious! Alicia Allen
11 scrumptious summer recipes, including (hear me out, now) Cherry Bacon Basil Pizza!  Also Peach Crisp and several main dishes and beverages. 
Spring Beauties! The Forgotten Spring Edible! Jennifer Sutherland Cline
Fairy Spuds?  Learn all about them in this informative article.
Rose Love, Gail Faith Edwards
How to fall in love with Roses.
Shampoo Powder with Shikaki, Jessicka Nebesni
A new spin on hair care.  Not a dry shampoo, and not the bubbly stuff, this something completely different!
Ground Covers, Kathy Musser
Learn why and how we choose different ground covers, and 10 unusual plants to try.
Lemon Balm - There's Never Enough! Marcy Lautanen Raleigh
In the bath and in the kitchen, Lemon Balm is happily at home wherever it goes.
Flower Salt and Water: It's Elemental, Marci Tsohonis
From the first moments of capturing the wild yeast, to the crisp crusts and hearty loaves, everything you need to know to make your own sourdough.
Nettles for Nourishment, Healing and Dye, Kristine Brown, RH(AHG)
All the parts of Nettles are useful to us.  Read all about the many ways Nettles offers to help us. 
Meet Our Contributors
Word Find Solution & Link to Interactive Crossword
You'll find a link to a crossword puzzle you can work online.