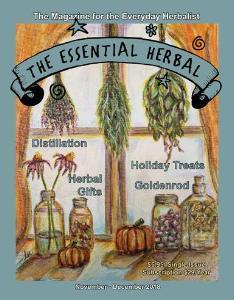 November December 2018 Essential Herbal (digital)
Field Notes from the Editor, Tina Sams
Some rough seas in the herb world, but we can always count on the plants to show the way. Oh, and keep an eye out for my next book!  
Celebrating the 12 Days of Christmas, 
Marcy Lautanen-Raleigh
Some ideas for enjoying the holidays with family, and a couple of recipes too.              
Advent Wreath, Susanna Reppert/Brill
Herbs add their meanings to the Advent wreath.                                                            
The Lost Gardens of Heligan, Rebekah Bailey
Travel along to the Tremayne Estate in Cornwall, England and learn the fascinating history of these gardens.       
Glorious Goldenrod, Kristine Brown
Goldenrod is such a generous, loving plant.  Learn how to experience the benefits it has to offer.           
Sesame/Scallion Strudel, Rita Richardson
A lovely, savory treat, perfect for holiday entertaining.                                                  
The Season of Giving, Jenny Flores
Fabulous ideas for putting together gift baskets for loved ones.                                   
Your Fresh Christmas Tree, Maryanne Schwartz
You've got it in the house… Now what?                                                                        
Horticulture Therapy, Jackie Johnson
Gardens, working with plants, getting our hands dirty, and all aspects of being around plants is something we need now more than ever. 
Botanical Nomenclature, Kathy Musser
Did you miss out on Latin classes in school?  Here are some tips to help.                     
Old Favorites, New Favorites, Molly Sams
Learning new plants to love across the continent.                                                          
Distilling Hydrosols, Tina Sams
We've been demonstrating the still a lot lately, and had requests for an article to explain how it works, so I finally wrote it down.   
Sweet & Savory Treats, Marci Tsohonis
As much as I would like to be Marci's neighbor, I know that it would be a very dangerous thing for any semblance of "figure."      
Holiday Herbs, Carol Ann Harlos
A quick primer on some of the herbs we use over the holidays                                      
Meet Our Writers
A new thing – we're including a page about the writers included in the magazine.            
Hyssop, Sandy Michelsen
A plant with many uses, hyssop is an asset to any garden.  Find out why!