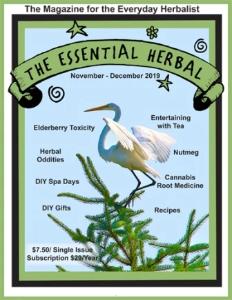 November December 2019 Essential Herbal (digital)
Field Notes from the Editor, Tina Sams
  I'll miss the plants outside, but then again…
About the Cover
  Photo by Signe Sundberg-Hall                                                                               
Cannabis Root Medicine, Part 1, 
  There's so much talk about the cannabis leaves and flowers,
  but there's a lot to say about a deeper medicine.                                                   
DIY Natural Spa Days, Jackie Johnson
  Easy to follow general instructions for lots of treatments.                                      
The Art of Entertaining with Tea, JB Schaffer
  Do you put on a pot of tea when guests are expected?  Get
  some tips for making people at home with various herbal teas.                            
Elderberry Toxicity, Rebekah Bailey
  A peek into to some soon-to-be published new research!                                     
Holiday DIY - Gifts, Marci Lautanen-Raleigh
  Wow!  Recipes and instructions for gifts, décor, and special
  culinary touches to use in entertaining or gift giving.                                              
Move over Turkey - It's Stuffed Pumpkin, Theresa Koch                                   
  Mmmm… a delicious vegetarian main course.
Nutmeg Gets Noticed, Kristine Brown
  Do you ever think, "I wonder who was the first person to
  try this thing?"  How about nutmeg?  How did that happen?                      
Cranberry Nut Bread, Nancy Reppert
  Festive and seasonal bread perfect with tea or as a gift.                                       
Book Excerpt: Evolutionary Herbalism, Sajah Popham
  The Vital Force Within Plants                                                                                 
Home Weeds Home, Lalanya Bodenbender
  Sometimes it takes a while to settle into a new plantscape.                                  
Keeping Herbs, Rita Richardson
  You don't have to miss herbs during the winter.                                                     
Conifer Forest Soap, Marci Tsohonis
  This one is on our list of things to make!                                                               
CO2 Extracts: What are They & How Do I Use Them? Liz Fulcher
  Sometimes I hear terms but don't really recognize that I don't
  know exactly what they mean.  CO2 extracts fall into that category,
  so I figured I wasn't alone. Liz graciously agreed to tell us.                              
Pumpkin Pie Ice Cream & Double Berry Wine Cooler, Nancy Reppert
  Two delicious and elegant - yet fairly simple – recipes.                                         
Herbal Oddities, Kathy Musser
  Less common, but interesting plants at the herb farm.                                          
Moving,
Sandy Michelsen
  Checking in after a long absence, a new place to learn and get
  to know.
Meet Our Contributors