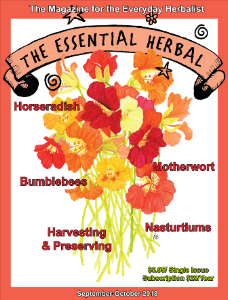 September October 2018 Essential Herbal (digital)
Cover Artist, Anne Butera
Some of the last blooms in the autumnal culinary garden grace our cover.
Field Notes from the Editor, Tina Sams
Lighting the herbal fire in a child. This issue has everything, but it's particularly helpful in making food be your medicine.
Autumn Canning, Rebekah Bailey
4 not-so-typical things to jazz up the pantry shelves
Herbal Condiments, Marcy Lautanen-Raleigh
Salsa, chutneys, relishes, and sauces to bring pizazz to the table
A Story of Spearmint, Isabella Bergum
A brief tale of how spearmint traveled to West Virginia
"Brain" Mousse, Maryanne Schwartz
No brains were injured in the making of this skin cream, it just looks that way.
The Moon Garden, Barbara Steele
The pure delight of night-blooming or pale silvery plants in the night
The Plight of the Bumblebee, Kathy Musser
As an herb farmer, Kathy has seen a change in how people plant their gardens, and it's a good thing.
DIY Botanical Cocktails, Jackie Johnson
How to put together a botanical cocktail bar for a large group
Making Fresh Horseradish, J B Shaffer
Try some fresh horseradish. Learn about the plant/root, and prepare it as a condiment.
Peruvian Maca, Marita Orr
All about the adaptogenic root Maca
Peppers, Anyone? Marci Tsohonis
Info on peppers and how to work with them. And LOTS of ways to use them.
Mad for Motherwort, Kristine Brown
Motherwort has so much to offer us. Kristine tells us all about it.
Autumn Harvest, Tina Sams
Do you work with new herbs each year? Be ready to study them in winter.
Nasturtiums,Tina Sams
Nasturtiums as medicine and food. Yup – medicine!
Witching Herbs? Maryanne Schwartz
Renaisance fair enchantments
Making a Medicinal Travel Bag, Molly Sams
It really only takes a few things for most people.